This shop has been compensated by Collective Bias, Inc. and its advertiser. All opinions are mine alone.  #CollectiveBias  #MerrySpritzmas
When we moved to our home a  few short miles from the beach, we were happy to discover how many of our friends and family loved to visit. My family especially. Always thrilled to  escape the harsh East coast winter during the holiday season for the sunshine of Southern California. Our friends also like spending the weekend at our home. Biking, eating and relaxing by the beach. And with a guest room, we are always happy to have visitors. Over the years, I adopted a great routine for having everyone stay over. So, I put together a few of my tips for hosting overnight Guests. Read on if you're planning to have friends and family stay over for the holidays.
As a host, my goal is to make my guests as comfortable in my home as they would be in theirs. I try to buy their favorite things from the store, stock up of snacks and booze and have plenty of everything from toilet paper to paper towels!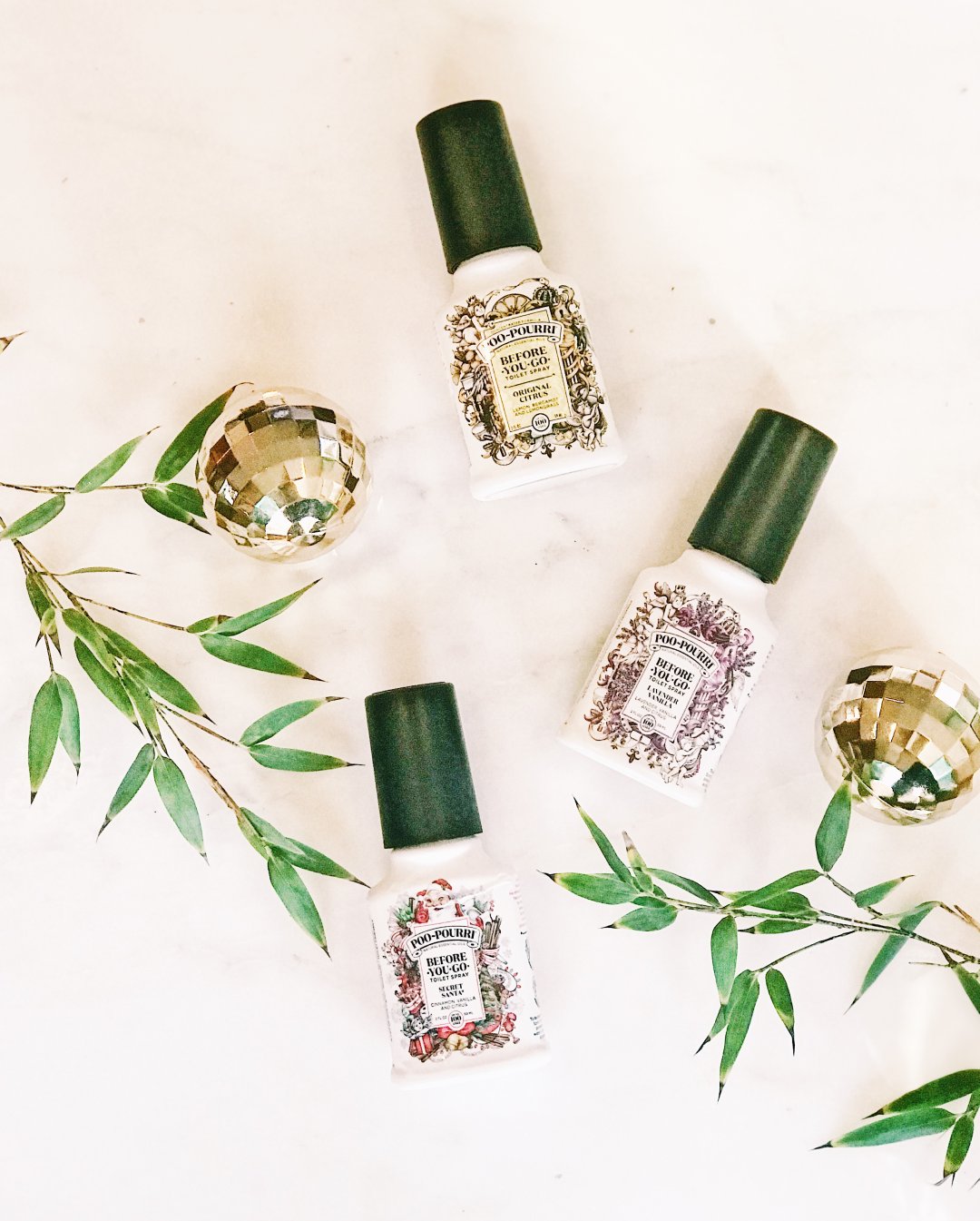 1. Stock Your Guest Bathroom With The Essentials
I consider it my duty to make my guests feel as comfortable as possible, and this includes making their bathroom experience as shameless and pleasant as could be. Have you been at someone's home where there was no toilet paper in sight? The worst feeling ever. I make sure to stock extra toilet paper, wipes and hand towels. As well as a plunger and matches. This way, someone can have the privacy and the confidence they need in my home.
Shop now by clicking the image above!
A couple of years ago I also discovered Poo~Pourri, and I have no idea how we all lived without this Before-You-Go® Toilet Spray. It's the kind of product that you use and wonder why on Earth you didn't come up with it yourself. I not only have it in all three bathrooms of my home, but I literally bought it for friends, because I think it's so great. It's works really simply. You simply spritz the spray into the toilet bowl before-you-go, and then Poo~Pourri's pure blend of NATURAL ESSENTIAL OILS creates a film on the surface of the water.
The protective barrier traps odor under the surface, before it ever begins! All you'll smell is a refreshing bouquet of NATURAL ESSENTIAL OILS. Flush yeah!
It really transforms your bathroom experience, and that's why I'm so excited to share this discount code with you guys!  20% coupon!! My favorite scents are the Lavender Vanilla and the Original Citrus, but this season they also have Merry Spritzmas® Merry Spritzmas® is a blend of peppermint, vanilla and citrus natural essential oils that eliminates bathroom odor before it begins by creating a barrier on the water's surface. Smelling is believing!
No one likes doing business outside of their home, but on days when nature calls, it's nice to have a reliable guest bathroom with all the necessary items to make the going easier.

2.Have Plenty of Food and Drinks
I like to keep  the fridge stocked with all types of beverages and snacks, so guests can easily locate them, once you point out where they could be found.  I like making it easy for everyone to get a snack or a drink whenever they want without having to ask. Sometimes I like to leave a couple bottles of water and a few granola bars or nuts in the room. This way guests don't even have to leave their room for a midnight snack.

3.Have Sleeping Arrangements Ready Before  Guests Arrive
 Because our guest bedroom isn't used daily, I change the sheets and dust and clean the room, and open a window. This way guests aren't arriving to a stuffy room with stale sheets. If there are more guests, I also set aside sheets and pull out the air mattress, and place it in the designated area, so the overnight guests know their "headquarters."

4. Provide a Set of Towels for Each Person and Toiletries
If you are having several guests, use different color towels for each, to avoid confusion. I have a drawer full of toiletries I've collected from hotels. I like to put them to good use and leave a few toiletries like soap, shampoo and conditioner, and lotion around for guests to use. One of the items guests forget the most is a toothbrush, so I also like to keep a few packs of new toothbrushes and toothpaste around.
5. Plug In
I have a little guest book I ask visitors to sign and the first page of it contains our wifi password. I also try to show guests where the remotes, extra chargers and other media related stuff is around our home. Once you're on someone's wifi, don't you feel like you're right at home?
Do you have any ideas about hosting guests, I'd love to hear your tips too! Share below. Also,  click here for the 20% coupon code for  Poo~Pourri, it's really a total bathroom essentials and not only when you're hosting but for your daily use!
P.S. Did you spot the marbled clay dish as my match tray? You can view the tutorial for how to make your own marbled clay jewelry dish here It's a great gift for girlfriends for the holidays.
Besos,
Alina