This shop has been compensated by Collective Bias, Inc. and its advertiser. All opinions are mine alone.  #TearASquare #CollectiveBias #Brawny #TargetFinds
Lately, it's been impossible to take F anywhere civilized. His little body just can't stop moving, so coffee dates or lunches with friends have been put on hold for now. Instead,  I resolved to summer entertaining at home. Which means hosting small little get togethers with friends. He can roam in a familiar place and I can relax a little, and entertain a friend over coffee, or something a bit more delicious. Last week, I invited my friend, and her two cute boys for a little s'mores party. Which really was a way for us to catch up, while her boys watched over F. Having a friend with older kids is such a win! The older boys are so patient and nurturing with my little energizer bunny. 
The fire-pit was a last minute addition to our backyard reno a few years ago, and it's now one of my favorite features. In the evening, we like to sit by the fire once the temperatures cool down, and I've never met anyone who doesn't like a s'more.
I guess those are my two top uses for the fire-pit. Are there others?!
To prepare for the afternoon of s'mores with friends, I headed to Target to pick up all of the necessities and also got Brawny® Tear-A-Square™  paper towels. Have you guys seen those?
Brawny® Tear-A-Square™ paper towels provide a smaller sheet size option, meaning you can make a little square—smaller than a napkin—and they are perfect to wrap around your s'more, for sticky-free hands (and everything else)! I love the flexibility of being able to use just a square when needed, or the entire regular paper towel.
Want to have a s'mores party too? Pick up all of your essentials by clicking on the image below!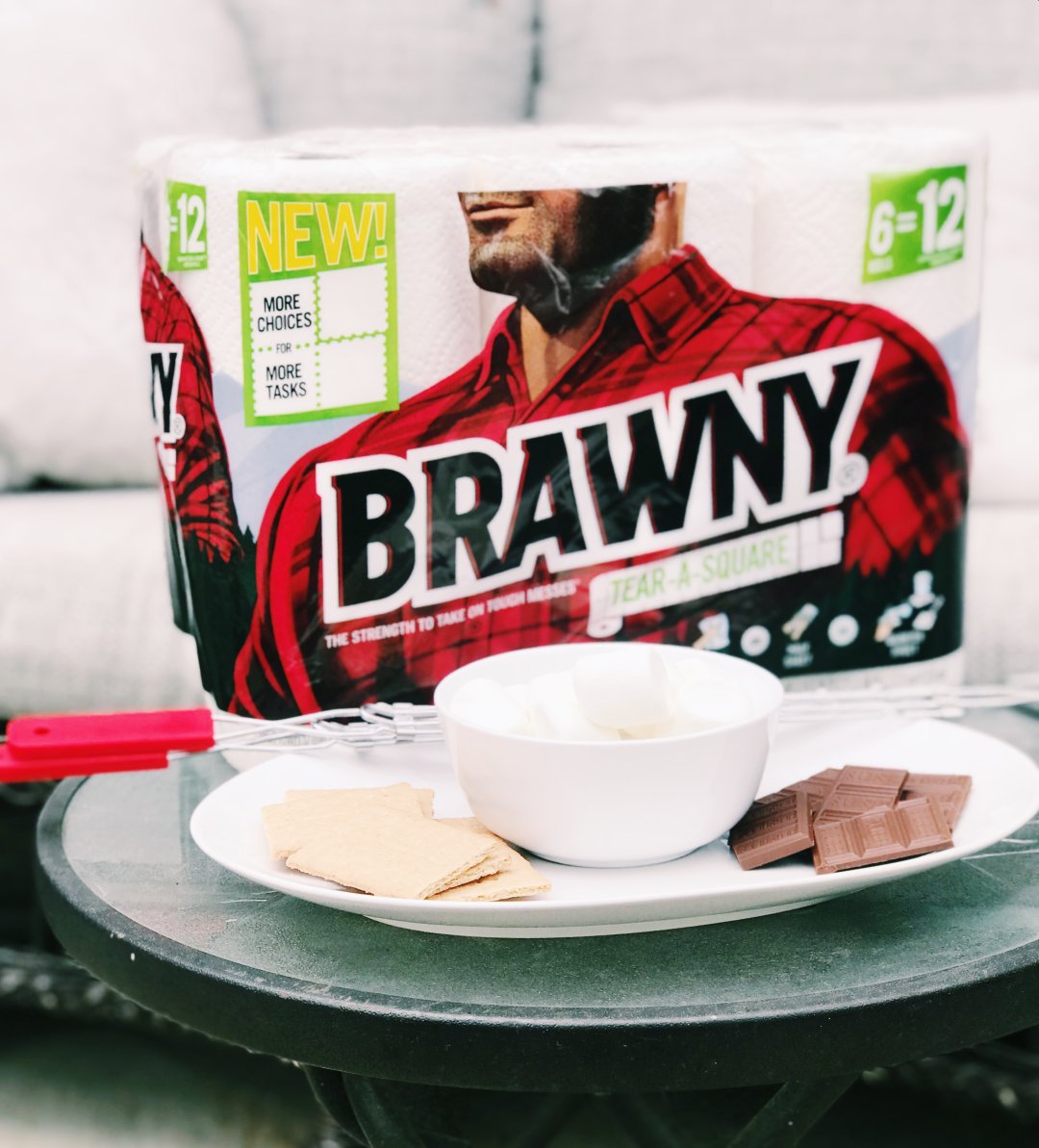 You can also check out this website for other creative uses and general life hacks with Brawny® Tear-A-Square™ paper towels.
So, boys, chocolate and marshmallow didn't intimidate me, because I came up with a mess free solution.
The little square of the paper towel is like a perfect pocket for the s'mores so all that gooey chocolate and marshmallow no longer end up on your hands. Or little hands, which subsequently touch everything.
They also work well as little plates. Praise be for no dishes!
It's so nice to just tear little squares for everyone, and not use a full paper towel sheet, when you don't need it.
I set up a little station with the marshmallows, chocolate and graham crackers, and these adorable tongues I found at Target, when I was grabbing the Brawny® Tear-A-Square™.
F may have snuck too many marshmallows and chocolate, but it was still a nice way to catch up and I definitely scored some points with my friends' boys.
What are some of your favorite ways of summer entertaining? I think a beach day would be great too!
Besos,
Alina
Other Posts You May Like
Favorite Podcasts To Listen To
Favorite Budget Friendly Maxi Dresses